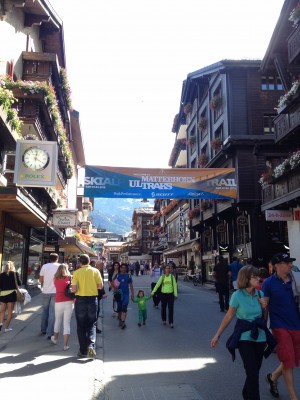 Yes, I had spent the summer 'traveling'/racing in Europe but that is not what this 'trip' is about.
I WAS at the very end of my summer being away from home in which I had surprised myself with top finishes in a couple of the biggest races in Europe.  Saying "I surprised myself" I mean that I knew I held the potential to do well at these races, or I wouldn't have been there, but I didn't feel like I would actually pull it off because I hadn't had more than one week of good training since I left home in June.
And this was my summer in a nutshell.  Feeling under-trained, going to races, finishing well (except for the two marathons….one described below).
Matterhorn Ultraks was my last race of the summer (being different than the fall season, only because I was heading home after this race).  I had done well thus far in the season by not caring about the races too much and so I pushed the theory to its max.
The Matterhorn Ultraks is 46k trail race with 3,600m ascent and descent (just under 12,000ft).  Anytime you get the rhythm in the up, the down, or the flat, the body is abruptly put into one of these other actions.  It is steep enough to grind you to a walk on a lot of the uphill and has fair bits of technical descent.   It is 4k short of being, as defined, an ultra. But one would be wise to prepare themselves as if it was an ultra.
Which I didn't, at all. In fact, I shrugged off the thought of it even being a marathon.
Ignorance is bliss………until mile 18(30k).  That is when I felt the dreaded dark moment in running in which you feel hopeless, totally wasted, miserable. This is when all you really need is the foresight to know it is coming to overcome it and this is where I was blindsided.  I had been blindsided in a big event in my recent past, and I think this race held parallels to this experience.
I was comfortably leading the race for the first 30k (-ish, the course was marked with very few indications of distance).  When I mean comfortable, I mean it seemed fairly effortless in a racing sense.  I was moving with the terrain on the uphills and I was holding back on the descents because it was a long race with a lot of transitions.  I knew my competition couldn't be too far behind me but it wasn't a seen battle for me.
And then around 30k, I was just empty.  I was aware that today I couldn't drink enough to satisfy my thirst and I couldn't seem to get the gels down the throat. The 3rd big climb of 600m, was never ending.  In my head……….well that is just it, I can't remember what really happened out there.   My discomfort was deep seeded and like being blindsided in my past, my mind quickly shut off I was no longer with me.
My lead was enough to delay being passed until about 38k (8k from the 46k finish).  And the whole time between 30-38k (which is probably an hours times on this course) I was wondering how could I feel that miserable while winning a race.
I was exhausted, I am sure I needed more water and calories. But i really think I just wasn't mentally prepared.  To go that 'deep into despair' while winning a race, to me illustrated how absent I was for that race.
This probably seems like childs play to an ultra runner, but I can say I have been there and this was different.  But, it is a good example of what an ultra takes and that is the mindset.  So so important.