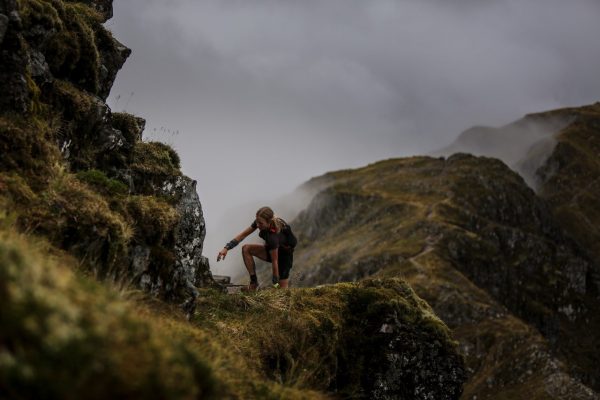 July and August had been off months for me with a lot of transition and not much grounding.  I had started questioning many things in my life including my relationship with running.  For the first time in my racing life I was really struggling with motivation to run.
Most of my sentiment towards running at the time was that it had been 10 years of runs being structured by the next race.  I started my running season when I did in order to be in shape for the first race and after that it was race, recover, short training block, 'taper', race, recover, throughout pretty intense racing schedules.
After a lousy Tromso Skyrace in mid-August I arrived home wanting my season to be over.  I debated it.   But what ultimately came from this 2 month struggle was the fact that I am an athlete who will always be a runner for fundamental training.  Even if I wasn't racing I would still want a similar base fitness to be able to have soul fulfilling wilderness adventures.  And racing is a great tool for overall fitness.  So if I want the fitness and I have the fitness then it only makes sense to maintain the fitness through racing.
As far as wanting the season to be over, luckily my next and potentially last race of the season was the Glencoe Skyline which was in a place of the world I had never been and was on a course that I was most looking forward to in the season.
Glencoe Skyline was an amazing course of runnable terrain in the Scottish Highlands mixed in with an amazing vertical rock scramble, a few more summits and a fun ridgeline of undulating rock pinnacles of which you had to watch your stance.  Like the Tromso race, you have to be mentally prepared to last the whole race for the specific safety reason of falling off a narrow ridgeline down a mountainside.   I did not have the mindset in Tromso for this that day and so I chose not to finish that race.
So after Tromso, instead of focusing on the action of running for my month leading up to this race I knew I just needed to focus on my mindset.  And for that all I really needed was one month at home where things are stable and familiar, where I could be in a rhythm and not use so much brainpower on things like finding the next place to stay, the wifi location, the cheap but good meal, the trails, the everything we have at home on a daily basis.
Glencoe was a super fun day that ended pretty slow as I was warding off leg cramps for the last 20k.