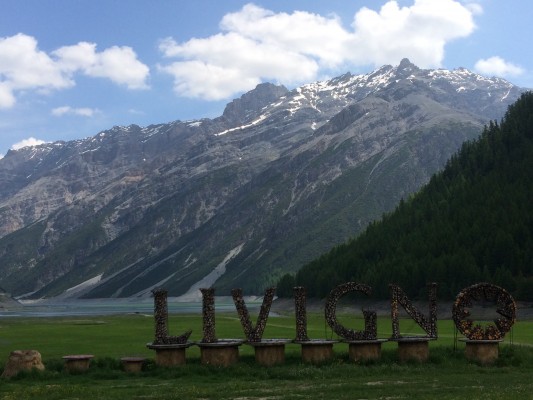 The 4th of 4 races in 3 weeks……I was almost done racing for a month!
The soreness from WMRC in my quads and gluts had given way to calf soreness and hamstring strain from the 3 fast flat sections of Beat the Sun 4 days prior.  On top of that is I was picking up a cold, sneezing two days before, runny nose just yesterday.
I went for a shake out run and i didn't think there was anyway I was going to finish the race the next day.  My muscles were too sore to recover from overnight.  But I was in Livigno, Italy to race and so I took ibuprofen to wish away the cold for just one day in order to compete in the first edition of the Livigno Skyrace the best I could.
The course started off with the only 5k of flat in the course of 3 big uphills/descents.  A nice way to start unless you are sore from that exact kind of running, which I was.
My game plan was to run to the top of the first climb and then I could at least get a nice view and some exercise for the day and not be too far out on the course to 'drop' easily.
As flat turned into uphill, my legs felt fine as it was such a drastic change in style from my last race.  The only problem was the hamstrings, they were sore and I needed those for going fast downhill in this race.
As I reached the top of the first climb, I was sure I could finish the race but I certainly was not going to push on the descents in order to protect my sore hamstrings.
In the 4th hour of the race, the clouds unleashed cold, wet conditions on the last climb and descent of the day.
5k from the finish, on a long downhill, Aitziber Iberia of Spain, came barreling past and there was nothing I was even going to attempt to do about it because I was not willing to pull a hamstring for a better finish that day.  Even if I would have been able to try, her downhill skills were very impressive!  And there was certainly no catching Elisa Desco on her home turf and the course of Marco DeGasperi.
That night, the cold that had been so patient to kick in finally did but I had made it through 3 races equalling 65 race miles in 8 days.  Sometimes we do things that we know are not smart to do.
The bright side: We had been upgraded at our accommodations in Chamonix where I was heading back to and that meant a walk out porch in the paraglide landing zone, and the weather in Chamonix was perfect for sitting outside.  Having a cold doesn't get much better than this.