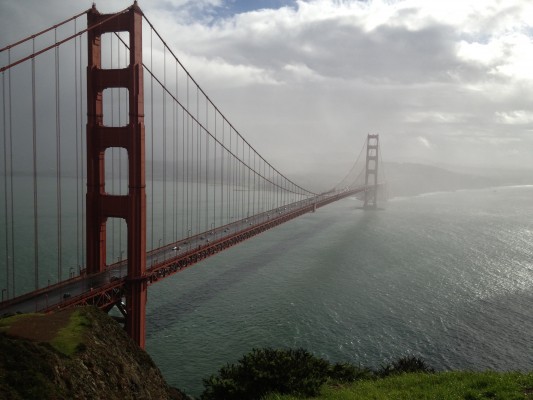 Rain. I believe they called it a/the Pineapple Express, the low pressure system that hit Northern California days before this race and lasted days afterwards. Somehow, the weather broke just enough at just the right time, to run the race. Within all the rain and wind, the temperatures stayed around 55-60F degrees which simply made the elements incredibly enjoyable having come from the cold winter climate of Silverton, CO.
I was incredibly hesitant about running this race as my calves had been given me trouble all season even during 13 mile races so I thought the chances of finishing 50 miles were kind of slim. Ultimately I was obsessed with the need to feel the difference, over such mileage, of a huge drop in elevation (training at 7-9,000ft to racing at sea level). I theorized, as is common theory, that the lower elevation would make my body feel better, last longer. Yet would it be enough to get me through 50 miles at this time? And was it worth the trip just to find this out?
A week before the race, an incredible line up of women was posted as entered for the race so I couldn't resist the opportunity to run with the best of them.
So here we go. I was up at 3:30am to mack down some food, stretch a little and make sure I forgot nothing, including a headlamp to start the race.
At 5am, in the dark, a couple hundred of us started off in the first wave of many on what I was hoping would be about a 7 hour run (it was a 46 mile 50 miler this year). It was incredible really, running in the dark with the flicker of other headlamps in front and in back and then gone from time to time. This was highlight of the race for sure, seconded by hearing the ocean waves as we progressed closer the the ocean, still in the dark.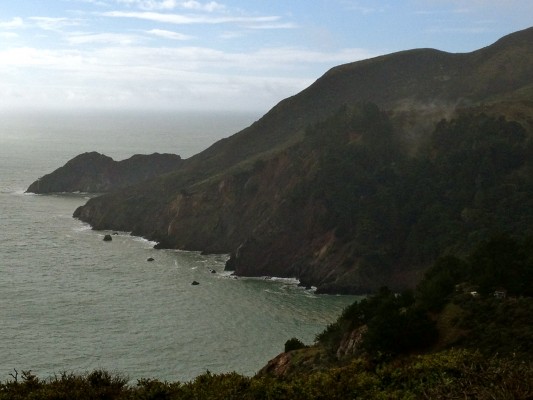 Daylight followed just after and I felt great, minus the relatively small amount of muscle soreness in my calves that I was convinced-?- would stay minimal for the whole ultra distance?………….And so yes, it works! I really do feel better here at sea level! The muscles soreness, certainly will not grow into a problem……………..
The race had been reconfigured, due to the weather, to consist of two identical loops. Being 'ultra' number one for me I knew I didn't want to go out fast, and that I didn't. At the end of lap one, the body felt 'great' and my mind was in it.  I was exactly where I wanted to be.
And as soon as I felt great I didn't feel so great. The second ascent of the first hill came around and didn't seem to end. With every step I felt my calves begin to get tighter and tighter and tighter and tighter and so it went. At this point the race stopped being a race and it became 'the challenge' to finish an ultra.
I came to the steepest of the hills, and my calves wouldn't allow me to run it, though by that time it was hard to run it anyways because of the mud, but I could still run down hill and that was enough to get me to the last crew/aid station-5 miles from the finish.
I knew the last big climb was not as steep and that it was pretty much down and flat after that so after expressing my discomfort at the crew station I continued on, just 5 more miles, certainly I can do that…..its almost all down hill. I started up the hill and immediately had to alternate walking and running to get up the ascent and at last I am at the top and we are descending……….or not, my calves could do no more.
Done. I had to count out any chances of finishing the race running. But being as I was still 4 miles out, I had to keep moving. Or not…umm……. tunnel vision, loss of equilibrium………imbalance of electrolytes (though I took salt tabs throughout the race)……caused me to have to sit, just for a minute. I felt pale but my color was fine, passerby's offered gels and sweets which I inhaled on top of what I had with me.  I got up, I had to keep moving.
I made it to the last aid station and by that time my body temperature had dropped, my lips were slightly purple and I was thankful for a ride past the last four miles of the race to the end. When you are running you stay warm, I was plenty warm for 41 miles but when I  had to stop and walk I couldn't stay warm enough.
I struggled before the race because I knew that ultra runs inherently carry with them additional pain and suffering compared to shorter races and I wasn't sure if I could trust myself in knowing when would be a safe time to say my body shouldn't go further. As it ended up my mind didn't have to decide anything, my body just refused to keep going.
This race will go down in history as one of my favorites, even without finishing it.
Thanks to all the crew and volunteers that make these long races possible and safe.