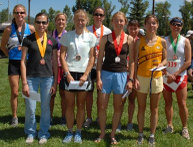 1st-Laura Haefeli,2nd-Megan Kimmel,3rd-Brandy Erholtz,4-Rachel Cueller
It had been an incredible winter in Silverton. So good, that there was no reason to leave the small town that was chock-full of powder skiing and then long spring corn tours broken up with running and biking which was a nice break from wearing heavy ski gear and a pack. Though, come June, all of that time did finally result in a bit of 'cabin fever' and I was looking for a way to get out of town.
Having come from a winter that was more lucrative in powder turns than it was in paychecks I stumbled upon a running race that had money going to the top 5 finishers in Steamboat Springs where I had an aunt and uncle I could visit. I decided it was worth the gamble. If nothing else, I could see how I stacked up in what was being called a USATF Trail Championship.
Having finished 2nd, Nancy Hobbs encouraged me to race the Berry Picker in a few weeks time as it was the qualifier for the World Mountain Running Championship being held in Switzerland.