I was riding the high from Russia as I landed in Madrid, it had only been 6 days since I left the states and in 4 four I would be headed back to the US. But first I was in Spain for my 2nd Skyrace, Zegama-Aizkorri.
As I found the town of Zegama, I wondered around and easily found the only restaurant that was open which happened to be seating fellow skyrunner, Stephanie Jimenez who invited me to sit and eat with them. They were drinking a beer so I joined which I only mention because it was best beer I have ever had.
Upon lunch I connected with the race committee who pointed me in the direction of my place to stay which was a quite bed and breakfast in the countryside near town.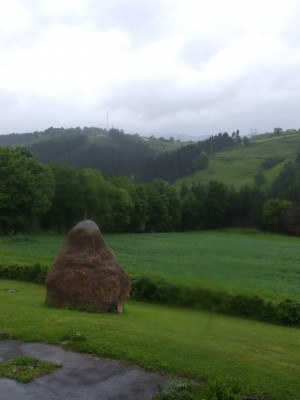 I did my best to try to find the beginning of the course but didn't really have much luck so I headed to the B&B where I spent the next day totally relaxing. In retrospect I probably should have been worried that I was about to run a marathon the next day and I had not run even a single mile since November. Not that worrying about it would have done any good, its just that the thought didn't even really cross my mind. My head was still in Russia and I was mesmerized by how low my resting heart rate was since I was practically at sea level. I had been skiing, so I was in good cardiovascular shape but skiing and running really are not quite the same.
The night before the race, excited for a meal at the same restaurant with the good beer and food as before, and of which the race organization had put forth as our 'invited athlete' free meals, I sat just to be told that the only food available was rice pudding. I was a bit confused as I was looking at other people eating from plates of salad, meat and pasta but upon maximum inquiry it was apparent that if I wanted anything to eat it was rice pudding or nothing. If I have ever felt a sandbag, this was it. I wasn't sure if it was because I was an American, if it was because I was a woman, or if it was because I was speaking the bit of Spanish I knew which was perhaps an insult to the Basque. Whatever it was, I was sitting in front of what I thought to be the worst pre-race meal I could think of, sweet, milky, fatty rice pudding.
And yes the next day I felt the wrath. It was only about 6 miles into the race when quite abruptly my back was aching. And I will tell you it was a long long run. I am definitely not saying it was the rice pudding, and I am saying my lack of running a factor. I was warned that the last few miles were muddy but i could care less what surface I was running on I just wanted it all to end.
It is not wise to come to a Skyrace off the couch. And then I thought about it more and I realized I was something like 3/4 of the way through a full trip around the world in 10 days time half of which were full travel days. Crazy.
Not all was lost though, when I made it back to the lodge, my hosts invited me downstairs explaining that they had some of the regions best apple cider (the fermented type). I walked down into the basement to find a mid-day pub, a sagardotegi, with a number of tables and locals enjoying their Saturday by sipping on cider.