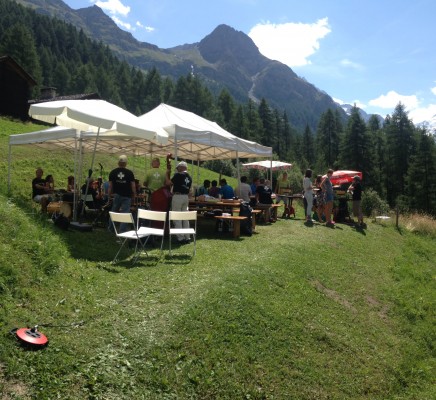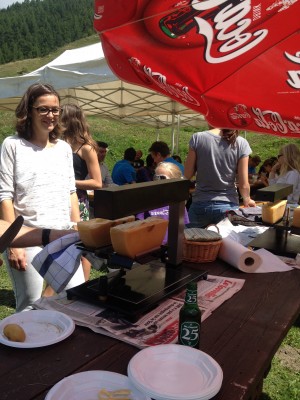 Ever since I started trail running, Sierre-Zinal has been the race of all races.  It had become almost mythical to me after 5 years of saying no to the opportunity because it overlapped with the busiest season in my line of work.  Friends went to the race as invited athletes every year.  Sometimes they would come back crowned with a podium finish, sometimes even the coveted 1st place.  But mostly they talked about how good the meals were, how well they treated the athletes.   And so it was that the race was a whole experience rather than just the most coveted of wins.
It felt like a very intimate World Mountain Running Championships, or  World Mountain Long Distance Championships.  But we didn't come as teams from one country, we came as individuals.  The lodging and meals created a unique setting where we all got to know fellow racers from various countries better than when I have been to the large World races where it is more about getting to know your teammates/fellow Americans.
Apart of this was the traditional raclette lunch and our introduction to 'the band'.  It was a beautiful day and at this point not all of the athletes had arrived but for us that did it was wining and dining on a spectacular hillside in the Swiss Alps.  It almost seemed like a temptation, a sandbag, for us athletes amongst a company that was drinking bottles of wine and eating (what can amount to be) a large amount of cheese, two days before a race.  We all participated at different levels as we sat and listened to the town's local band playing acoustic.
The next day was a tram ride across the valley from the raclette lunch that had a beautiful view of the course that I had run with old acquaintance and new friend, legendary/4 time winner of Sierre-Zinal, Pablo Vigil the day before.  Again, the outing involved lunch, almost all of the participating elite athlete, and……the band.  The drummer is my favorite, he is like a muppet, a little goofy and always smiling.
At this point, it was the day before the race, and I was ready to get back to my room to chill out.
The next morning we all loaded onto the bus from our base, which was the end of this point-to-point race down to the start, the bigger town of Sierre.  As we near the starting line getting ready to warm up,  What do I hear but……..the band!  Phew, I was not sure I would know if I was at the right place without them.
As far a racing goes, I was dreading the uphill start of this race quite a bit. I am a mountain runner so uphills don't phase me? but I am not as passionate about a strict uphill climb, I find it a bit boring.  What I did like about this course was that it wasn't just an uphill, after the incredibly long uphill start, the course 'flattened out' (a relative term in trail running) for just as long and ended with a steep descent.
There were many familiar faces at this race and one last minute Kenyan entry.  All talk was about the Kenyan as she had just won a neighboring race the weekend before.  But was she really a solid trail runner?….that was what I wondered about.
Race started, race finished, Lucy, the Kenyan, won by 6 minutes! but under course record time.  I had a decent race, happy to have finished 2nd.  So yes, Lucy is solid.
Pablo Vigil has always said you must peak for this race.  I get it, it is the crown jewel.  I certainly didn't peak or even train specifically for this race but now I want to.
More importantly, back to the entertainment.  As we gathered for the start 'the band' played 'you are my sunshine', I am not sure that helped get me that excited for the race, but just to have the band there was enough for me.  The uphill came and there was an accordion player, after that a little drummer boy. And so went the race, music makers helping to reset the mood.
The whole experience was Switzerland at its best.  Many many thanks to a great race organization.