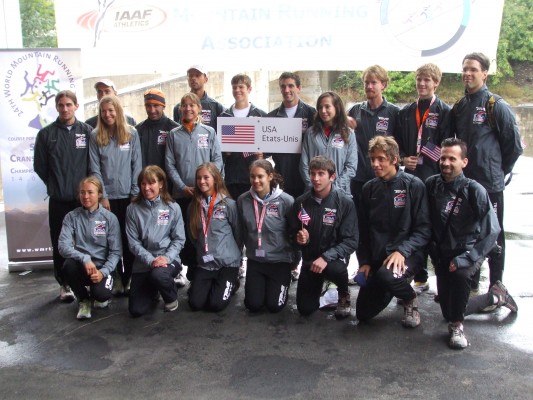 What an experience, I was in Europe!!! Not knowing if this would be my only trip here I spent 5 days in Chamonix, France prior to arriving in Crans-Montanya. The  the running and the scenery in Chamonix were amazing…..when it is the clouds actually lifted.
When I arrived into Switzerland, the weather was the same. They said there was a view of the Matterhorn from our balcony.
Before I knew it, it was race morning and as I woke I was not feeling anymore energetic than I had for the past two days. I hoped it was just some sort of weird race jitters.  There is no time to dwell on race morning so I ate some breakfast, we got into the car and headed for the start.
As the starting gun went off, we shot towards the front as the beginning of the race was in a tight alley leading straight into single track. If you were not in a good position then it would be hard to pass people on the single track. And so the race started well. After that every step I took I felt increasingly worse, extremely tired. I have never felt so lousy while running.
Finally the 8k race was done. What had happened I don't know. What I do know is that there is more to this event than I could have guessed. This world is full of talented athletes and this race had no shortage of them. If one wants to win this race they must be in tip top shape. And I thought I was……..
Before leaving, the clouds did lift, and the view of the Matterhorn was amazing!